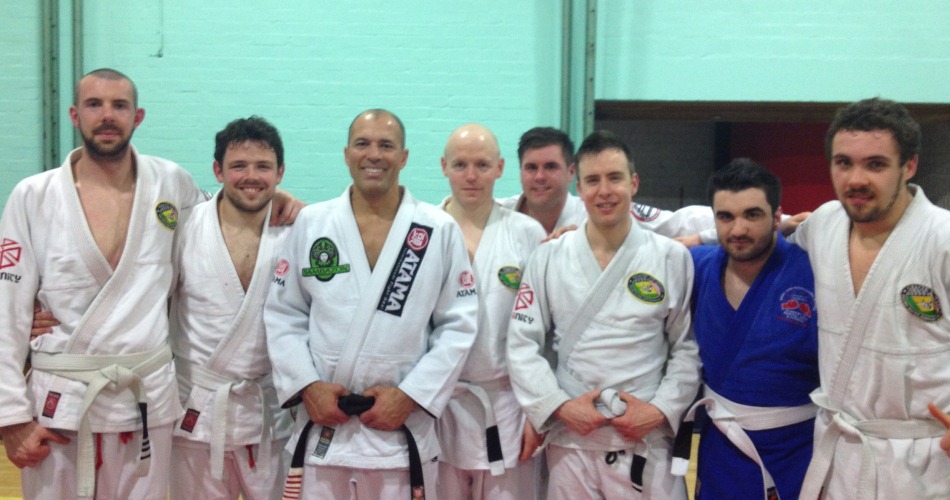 10th April 2013 saw a group of BJJ Chelmsford members, attend a Gracie Jiu Jitsu seminar given by Royce Gracie at GJJ Brown Belt Jon Hegan's Brazilian  Jiu Jitsu club in Upminster, Essex.
As part of Royce's 2013 UK tour, the mat was jam-packed with a mixture of grades, from all over the country.
The seminar began with the drilling of some of the Gracie Jiu Jitsu self defence syllabus, throughout which Royce gave some humorous and very easy to remember phrases and kinesthetic cues to help drill them effectively and correctly.
The second half of the seminar focused on moving from closed to an open guard variation, and then follow up options that then become available. The way the options were laid out made them very easy to remember and to select the most appropriate.
The session closed out with some situational rolling from the guard position, with the person in guard only allowed to use their right arm. This made for some great problem solving and, in some cases, hilarious rolling.
Thanks to Jon Hegan for his hospitality and making the event possible, and to Royce for passing on some of his knowledge.
For more information on BJJ in Chelmsford, please contact academy reception on 01245-467680 or here via email