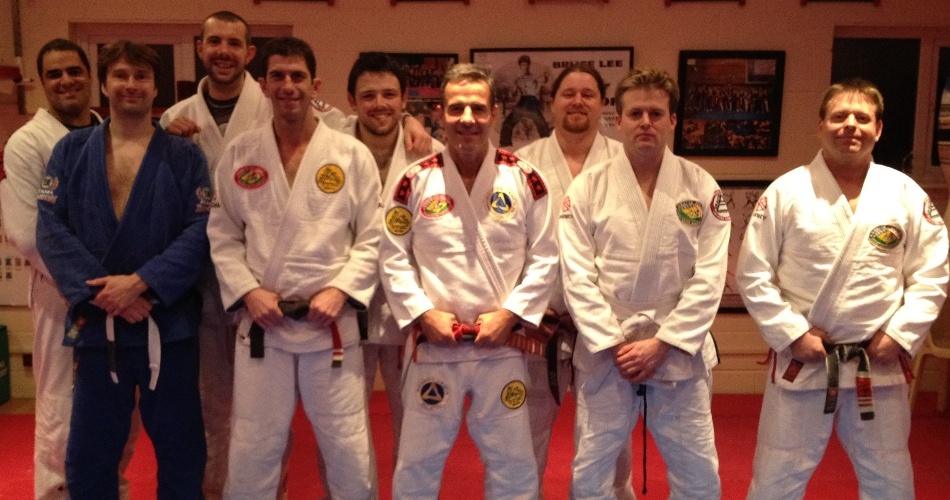 February 2012 marked the inaugural visit of Professor Pedro Sauer to the United Kingdom; a true master of Brazilian Jiu Jitsu.
Brought about by Guro Laurence Sandum of BJJ Chelmsford, Professor Sauer travelled all the way from his full-time Martial Arts Academy in Sterling, Virginia USA to Chelmsford to give an awe inspiring weekend of instruction in the finer points of Gracie Jiu Jitsu.
Professor Sauer was accompanied by two of his highly experienced black belts,  Allan Manganello of Loiusville Martial Arts and Allen Hopkins of Team Hopkins Jiu Jitsu.
The highly anticipated weekend consisted of sessions open to everybody, as well as semi-private sessions; drawing attention from all over the UK, as well as some international interest from Europe.
Over the course of the weekend, Professor Sauer took time to emphasise that at the root of Brazilian Jiu Jitsu, the Gracie family conceived it as a method of self defence, where a smaller man could escape a larger opponent. That said, professor Sauer also spoke about the application of BJJ as a sport.
BJJ Chelmsford would like to thank Professor Sauer, Allan Manganello and Allen Hopkins for travelling across the Atlantic to the United Kingdom, to give an unprecendented weekend of training.
BJJ Chelmsford is looking forward to hosting Allan Manganello in Chelmsford in August 2012, as well as the return of Professor Sauer in early 2013.
Click HERE for photos of Professor Pedro Sauer UK Seminar 2012.
For more information on BJJ in Chelmsford, please contact academy reception on 01245-467680 or here via email