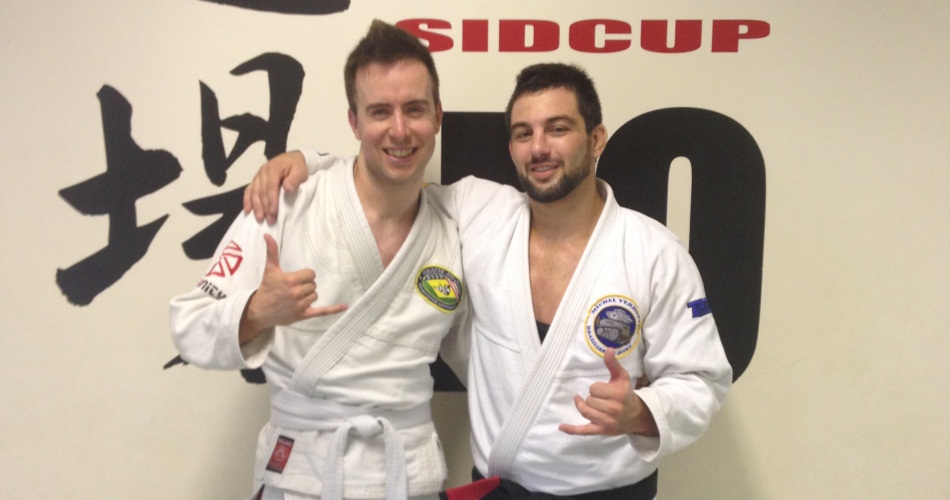 On the 24th of August 2013 BJJ Chelmsford member Martyn Rackham took a trip to a five hour long Brazilian Jiu Jitsu seminar held at the Sidcup Dojo hosted by Paul Finn of Karasac Kali with Rickson Gracie Black Belt, Michael Verhoeven.
A good mixture of belt grades were present with students travelling from across the UK to this well attended seminar.
The seminar started with a Gracie Jiu Jitsu inspired warm up and Michael took the time to help a number of students improve these basic GJJ movements that covered everything from forward and backwards rolls to shrimping and explained the relevance these held and how they complimented some of the more advanced techniques.
The seminar then moved on to cover the correct positioning to execute takedowns and some "basic gameplan" for stand up sparring to help students learn to not just utilise the techniques in isolation but to use them in a flowing sequence. This then lead to several friendly bouts of standup sparring with Michael helping students to adjust techniques to maximise their effectiveness.
The seminar moved on and continued from the standup sparring to cover three different throws from the back of an opponent and how to use these in both competitive and self-defense situations.
After a short break the action moved onto the ground and the mount position was drilled extensively covering upa, elbow esacpe and the correct variations of these to use depending on your opponents positioning. This was paired with drills to maintain mount as partners attempted to escape.
The final section of the seminar concluded with a number of submissions from the mount including cross chokes, americana, armbar, and the ezequiel choke. Lastly the students then proceeded to spar the groundwork and Michael took time to roll personally with a number of students including Martyn who found the experience of great benefit.
For more information on BJJ in Chelmsford, please contact academy reception on 01245-467680 or here via email