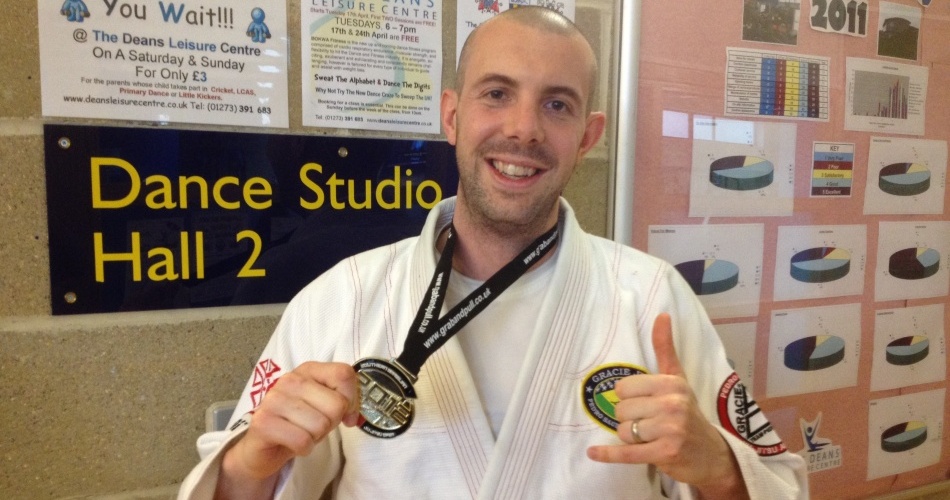 BJJ Chelmsford member Peter Squire brought home the Gold Medal in the Medium Heavy Weight White Belt category from the inaugural Southern Open, held in Brighton on Sunday April 29th 2012.
Although it was the 1st Southern Open the event was well supported, with 200-300 competitors from all over the United Kingdom, and even a team of juniors from the Channel Islands.
Peter's first fight started with him quickly receiving advantages for takedowns. Seizing on this lead, Peter began to rack some points on the floor. It was evident that his opponent could not keep up with the pace that Peter was putting on him, leading him to mistakenly turn the wrong way and give up his back. Peter immediately pounced and got his first hand in for sliding collar choke. Peter's opponent held off the second hand, so Peter opted for a modified single wing choke.
Due to uneven numbers in the tournament, Peter was giving a by to the final, due to the fact he won his first fight with such a convincing submission.
In the final, Peter fought an opponent that had been noticeably strong throughout the tournament; where he had used strong standing tactics to wear his opponent down. Peter's background in Judo meant that he was at relative ease in this situation. This was demonstrated when he pulled off a 'sumi gaeshi', a sacrifice throw where Peter sat down and flipped his opponent over his head. Unfortunately his opponent immediately righted himself, so no points were given. The remainder of the round was fought on the floor, with Peter working for a submission from his guard. As the timer ran out, the nod was given to Peter on account of him instigating the throw that took the competition to the floor.
BJJ Chelmsford would like to congratulate Peter on this win, especially against a relatively stacked and strong field.
For more information on BJJ in Chelmsford, please contact academy reception on 01245-467680 or here via email